Parts Cleaners
An engine is made of various parts. Each part is made from different materials, including copper, mild steel, carbon steel, plastic, bronze, and asbestos. The physical and chemical characteristics of these materials vary based on application. Engine parts are exposed to contaminants in various ways, requiring different cleaners. When exposed to solvents such as water, some parts can also be used as a criterion for choosing the part cleaner. Read More…
Parts Cleaners
Parts cleaning systems are machines that act as one of the last steps in parts manufacturing. They are designed to clean, degrease and dry mass quantities of small or large parts before they are surface treated and shipped for distribution.
When choosing a cleaner for an engine part, consider the part's location and exposure to specific contaminants. For example, some parts are exposed to dust, while others are exposed to oil. "Parts cleaners" refers to the equipment or media used to remove contaminating materials, oils, grease, and dust from manufactured parts. Cleaners may be organic solvents, cleaning agents, or simply water.
In automotive workshops, it's critical to clean parts while performing repairs. Cleaning simplifies the task, increases safety, and enhances the standard of engine, gearbox, and chassis repairs. High-pressure cleaners, dry ice blasters, and parts washing systems are available for professional parts cleaning. Every cleaning issue in the auto shop has an appropriate solution.
How Parts Cleaners Work
To clean engine parts effectively, manufacturers should identify the correct cleaning solution required.
Brake Cleaners
Brake cleaners are used to clear contaminants that may prevent brakes from operating effectively. Manufacturers spray brake cleaner on the rim's surface to wash off debris and contaminants and use a pan to collect excess cleaner. Grease, oil, leaky brake fluid, and any other filth will loosen up as the cleaner floods the crevices. Solvents used in brake cleaning can be harmful if it contacts the skin or eyes. Before applying solvent, the brake shoes or rim should be completely cooled. Otherwise, the chemicals in the solvent may cause an explosion when added to a hot surface.
Ultrasonic Cleaners
Ultrasonic cleaners work on materials like metals, glass, rubber, ceramics, and hard plastics. Ultrasonic cleaners work best when cleaning intricate products with blind holes, fractures, and recesses. They effectively eliminate impurities that are strongly bonded to the surface. Industrial ultrasonic cleaning systems may use aqueous (water-based) or solvent-based fluids. Manufacturers will place pieces in a tray or basket before submerging them in an ultrasonic cleaning tank. The ultrasonic generator shakes the parts at a specific frequency to clean them.
High-Pressure Cleaners
High-pressure cleaners can be stationary or mobile but ultimately function the same way. They draw in water and detergent through a hose and pump a warm mixture of water and detergent onto the dirty part through a hose with an adjustable nozzle. High-pressure cleaners can be powered by diesel or electric motors.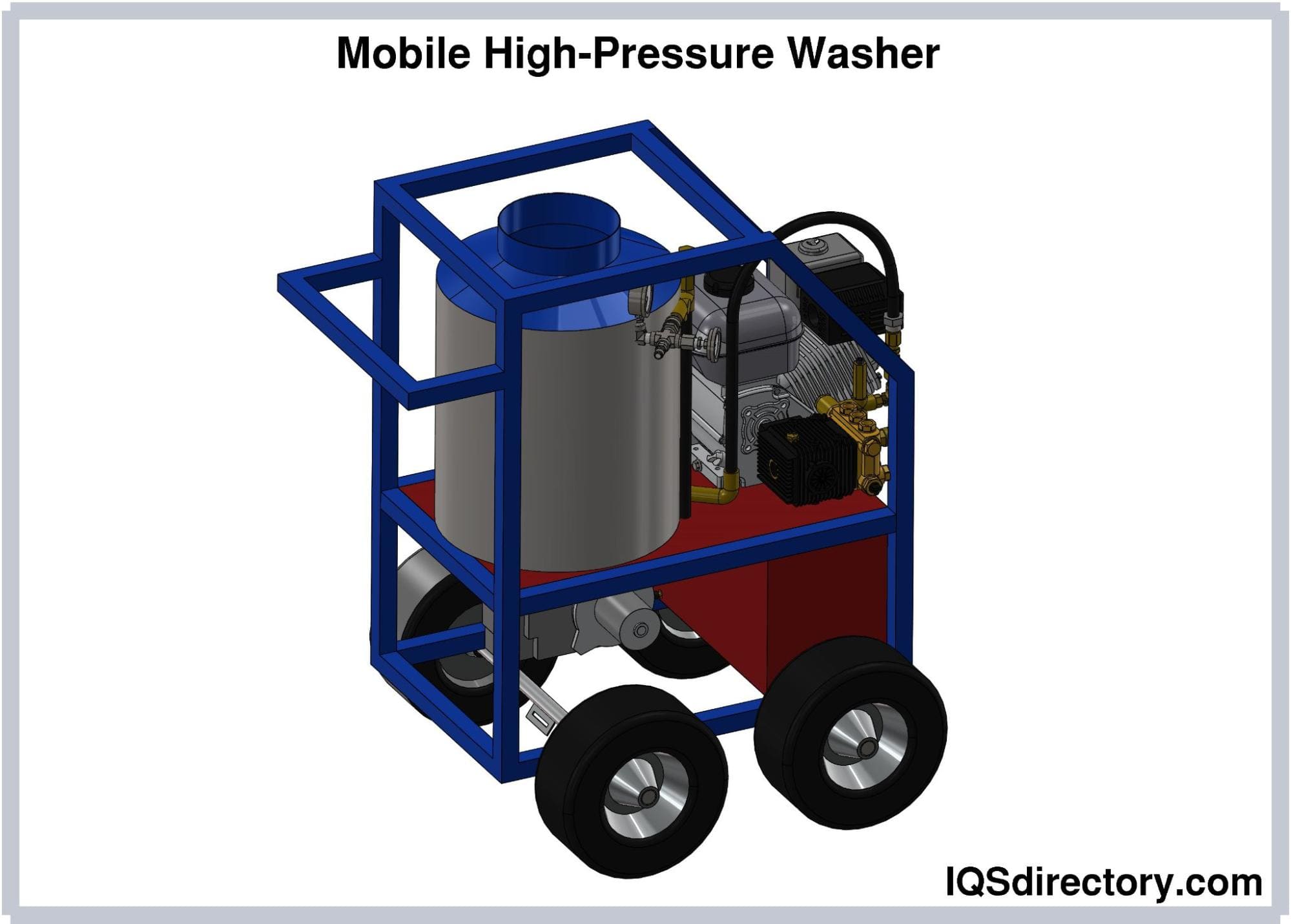 Advantages Of Parts Cleaners
Easily and effectively remove contaminants
Provides a safer working environment
Suitable for all kinds of materials
Disadvantages Of Part Cleaners
Some cleaning solvents are toxic or flammable
Choosing the Correct Parts Cleaner Supplier
To ensure you have the most productive outcome when purchasing a parts cleaner from a parts cleaner supplier, it is important to compare several companies using our directory of parts cleaner suppliers. Each parts cleaner supplier has a business profile page highlighting their areas of experience and capabilities, along with a contact form to directly communicate with the supplier for more information or request a quote. Review each parts cleaner company website using our patented website previewer to quickly learn what each company specializes in. Then, use our simple RFQ form to contact multiple parts cleaner businesses with the same form.
Parts Cleaners Informational Videos