Automatic Parts Washers
Automatic parts washers are mechanical devices designed to rinse, load, dry, wash, and unload parts with the aid of computer software. Automatic part washers minimize manual labor costs and are faster than manually controlled machines. They can also clean parts in high volumes at a much faster rate. Read More…
Automatic Parts Washers
Most parts washers today are semi or completely automatic. They are controlled by computer software and perform automated tasks like loading, washing, rinsing, drying and unloading, all without worker assistance.
Automatic Parts Washer Design and Function
All parts washer types, such as spray, agitating, and rotary, that are designed to clean certain products are available completely or partially automatic. They are controlled by computer numeric controlled systems or by computer software.
Automatic parts washers continuously move parts through the wash, dry, and rinse stages. They control the heat, speed, cleaning level solutions, pressure, flow rate, and applied load. All of these options can be adjusted, and they are pre-programmable.
Semi-automatic washers consist of stages that are automated; however, they may require manual unloading or loading with a separate conveyor system. Automatic part washers are usually equipped with a system for recycling. The system helps to minimize costs and protect the environment. In addition, automatic part washers that use computer numeric controlled systems are equipped with one or more storage units and microprocessors.
They also work with computer-aided design software to give the appropriate commands required for the machine to clean the parts thoroughly. The use of automatic part washers has come with numerous benefits. Finally, automatic parts washers reduce solvent use by a greater percentage and maximize cleaning speed and quality, giving higher-quality results at a very low cost.
Types of Automatic Parts Washers
Specific types of automatic part washers are used in industries that process large volumes of components. For example, parts washers meant for the aerospace industry differ from those designed for the automotive industry and other industries.
Agitated Immersion Washers
Agitated immersion washers are mostly used when rust, carbon, chips, oil, or buffing compounds need to be removed from parts before being deburred or welded. Immersion washers may consist of a drum washer. The parts are immersed to loosen contaminants and dirt before they are washed by agitation on a tray. Other versions used in advanced industries have multiple tanks attached to them, each having a unique purpose like rinsing, drying, or washing.
Spray Cabinet Washers
Spray cabinet washers are very efficient and work in batches. They are classified as top loading or front loading. Spray cabinet washers consist of a spray manifold that uses a cleaning solution and pressure to clean the parts. Commonly used spray cabinet washers are either roundtable or retractable.
Conveyor Parts Washers
Conveyor parts washers are defined as all-in-one machines. This is because they can perform rinsing, washing, drying, or even sealing if required. There is little human interference when the parts move from one stage to another. Three commonly used conveyor parts washers are the U-bend, in-line, and monorail. All the stages are fully automated, making the cleaning process very easy.
Application of Automatic Parts Washers
Automatic parts washers clean grease, carbon, metal chips, contaminants, and cutting fluids from metal pieces. Automatic parts washers are used in different industries; for example, in the automotive industry, the manufacturers run parts of vehicles that are soiled from making procedures and parts that are used and consist of road dirt, grease, and grime through these automated washers.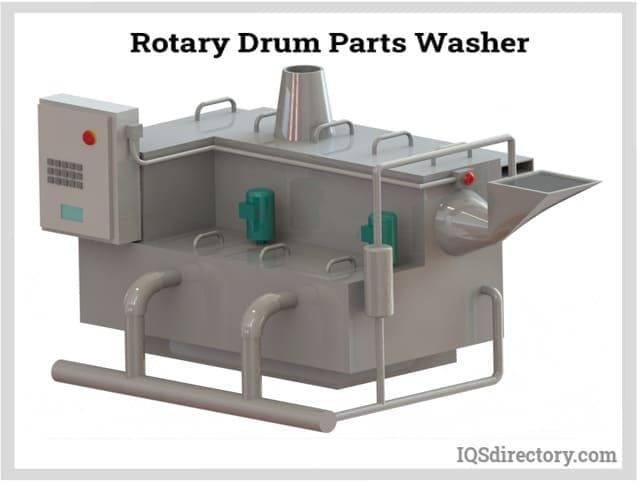 Hardware factories producing small tools run their products through part washers in large volumes. They are used in the medical sector to sanitize large amounts of supplies and instruments. In addition, automatic part washers are used in recycling facilities. Before recycling a bottle, drum, or plastic into a new product, it must be completely sanitized and cleaned.
Advantages of Automatic Parts Washers
Automatic part washers can function as a standalone system since they require very little control. Their versatility and customizability are high. Automatic parts washers can be found in various models and designs. Another advantage they offer is that they save space. Many functions and features are offered, ranging from electricity to steam or gas.
Choosing the Right Automatic Parts Washer Manufacturer
To ensure you have the most productive outcome when purchasing an automatic parts washer from an automatic parts washer manufacturer, it is important to compare several companies using our directory of automatic parts washer manufacturers. Each automatic parts washer manufacturer has a business profile page highlighting their areas of experience and capabilities, along with a contact form to directly communicate with the manufacturer for more information or request a quote. Review each automatic parts washer business website using our proprietary website previewer to quickly learn what each company specializes in. Then, use our simple RFQ form to contact multiple automatic parts washer companies with the same form.
Automatic Parts Washers Informational Videos