These are cleaning equipment that uses aqueous cleaners to remove debris or contaminants like oil, grime, dirt, cutting fluids, carbon, and paint from workpieces. They are used in new manufacturing processes as well as remanufacturing processes. Read More…
Aqueous Parts Washers
Parts washers are a type of automated or semi-automated equipment that is designed to clean, degrease and sometimes dry mass quantities of large or small parts in preparation for distribution or surface treatment.
Aqueous parts washers are designed to degrease and dry many loads of large or small parts in preparation for assembly, surface treatment, inspection, packaging, and distribution. Aqueous parts washers are essential in repair, maintenance, and remanufacturing operations for cleaning fasteners, bolts, nuts, etc. Aqueous parts washers provide the same cleaning power as solvent parts washers but utilize cleaning solutions that are biodegradable and safe.
Composition of Aqueous Cleaners
The composition of aqueous cleaners include:
Wetting Agents
These are surfactants that reduce the surface tension of water. They allow it to penetrate and loosen soils bonded to the part's surface. The soils detach from the part's surface and break down into smaller droplets. The surfactants will then emulsify the oil droplets in the wash solution. This will prevent the oil from reattaching to the newly cleaned parts and floating to the solution's surface.
Sequestering and Chelating Agents
These agents are utilized in water conditioning by sequestering mineral salts in hard water. They allow easy removal of tough soils. If these agents are not present, the active ingredient present in the washing chemical would become rapidly depleted. This is because it would interact with the mineral salts rather than removing the soils from the parts.
Alkaline Salts
Sodium hydroxide and potassium hydroxide are among the most common caustics that utilize the increased alkalinity in a wash solution. Higher alkalinity aids in the degreasing of components, yet it must be combined with surfactants since alkaline solutions have poor wetting capability. For the holding of the soils in suspension, surfactants also help.
Types of Aqueous Parts Washers
The different types of aqueous parts washers include:
Spray Washers
Spray washers clean by spraying heated solutions at high pressures within enclosed cabinets. Spray cabinets are available in a range of capacities.
Ultrasonic Parts Washer
Ultrasonic parts washers consist of a steel tank filled with an aqueous solution. They are also equipped with transducers along the sides or bottom of the tank. These transducers generate high-frequency sound waves responsible for producing and intensifying microscopic scrubbing action on the surfaces of the parts, including interior surface areas and blind holes.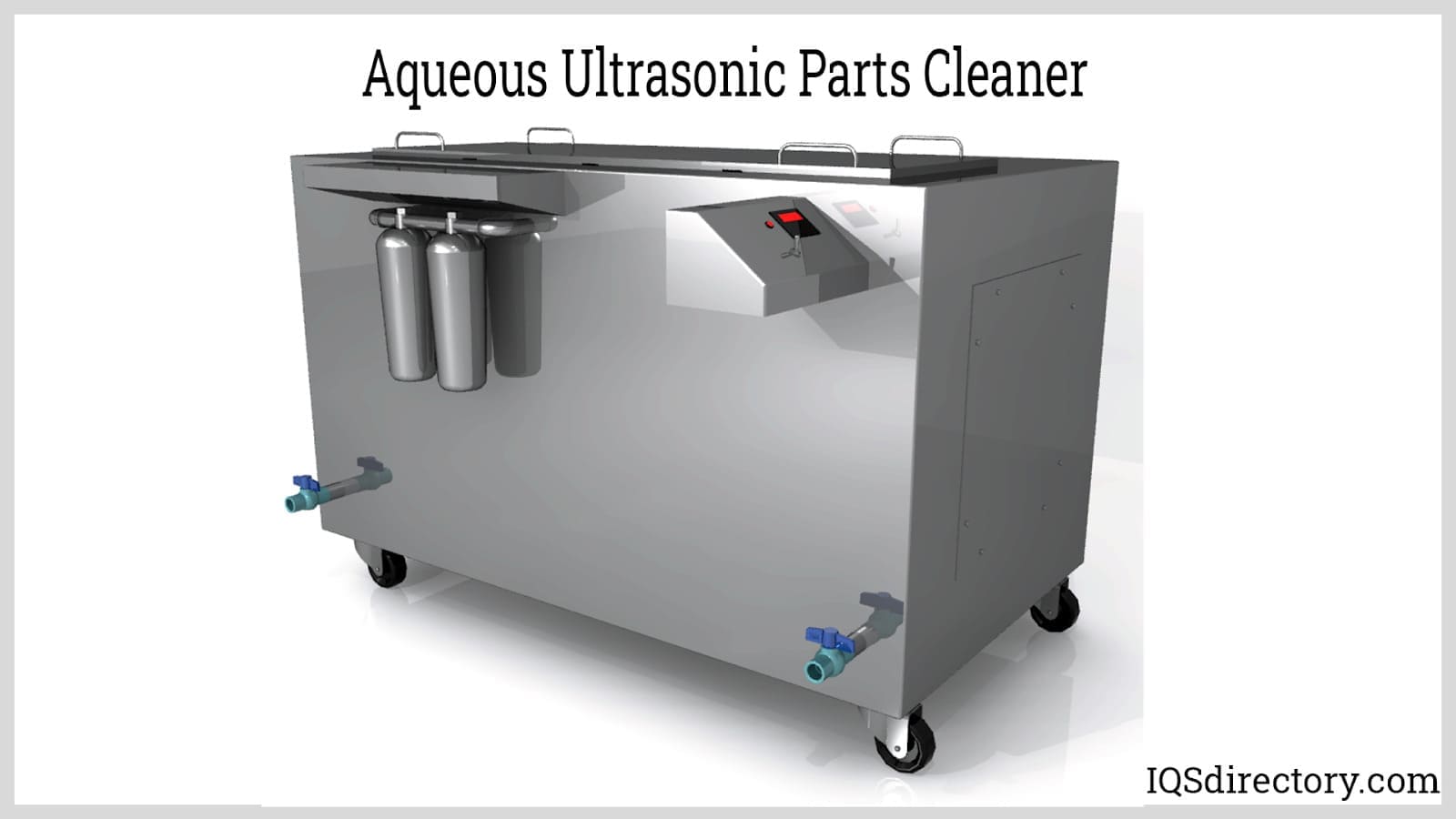 Rotary Drum Washers
These systems clean parts using a dual-action cleaning process. The process uses spray cleaning for washing the exterior surfaces, along with immersion cleaning for flushing the inside of the parts under solution. Rotary drum washers are economical for high-volume rinsing, washing, and drying manufacturing parts.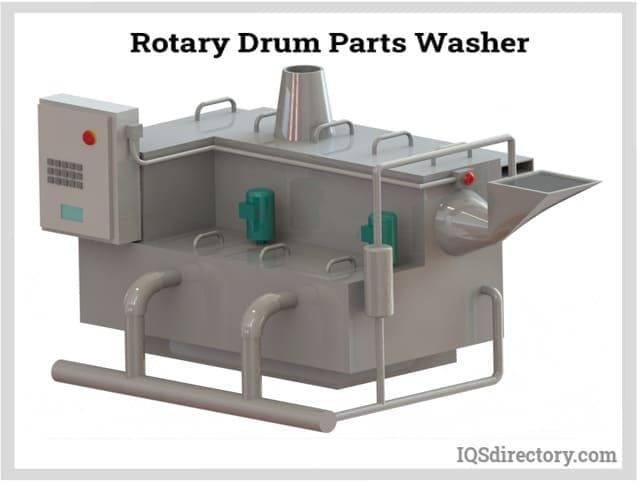 Sink-Top
These systems are well suited for manually cleaning a small number of parts with moderated and light soil levels. Parts are cleaned with an aqueous solution. The solution is stored and cycled through a flexible flow-through brush for hand use.
Immersion Spray Units
These systems can clean irregular shapes and tube and cylindrical configurations that cannot be cleaned properly by spray aqueous parts washers. When the parts are immersed in the cleaning solution, the adhering contaminants are removed through the chemical cleaning effects of the aqueous solution.
These parts washers utilize a reciprocating platform that agitates the parts in the water-based detergent. Immersion spray units successfully remove all oils and particulates from the internal cavities and outside of the parts.
Applications and Uses of Aqueous Parts Washers
Aqueous parts washers are used in:
The automotive industry
Degreasing and cleaning of parts
The aerospace sector
Cleaning aeronautical components
Cleaning metal pipes
Benefits of Aqueous Parts Washers
The benefits of aqueous parts washers include:
Low VOC Content
The solution of an aqueous parts washer is water-based instead of solvent-based. Consequently, it is typically composed of the lowest amount of VOCs (Volatile Organic Compounds) among the two types of formulations. Since volatile organic compounds can harm humans and the environment, aqueous parts washers are safe due to their low VOC content.
No Powerful Odors
Since aqueous parts cleaning solutions contain low VOC content, they tend to be low-odor solutions. Therefore, they do not cause acute ailments related to VOC exposure like respiratory distress, watery eyes, and upset stomachs. Furthermore, in terms of odor, aqueous cleaning solutions make it easy to work in areas where the cleaner is applied.
Reduced Air Pollution
Aqueous-based cleaners contain low hazardous air pollutants, making them a good choice for reducing air pollution.
Easier to Automate
Since solvent is generally more reactive and volatile than water, aqueous parts washer solutions are easier to drop in as a replacement for the cleaner that has been previously used. This is why aqueous parts washers are said to be easier to automate than solvent-based cleaners in the industrial chemical industry. The easier the automation, the less productivity is affected when the cleaners are changed.
Considered Greener than Solvent
Aqueous parts washers are considered greener than solvent parts washers because aqueous parts washers contain low VOC and HAP content than solvent cleaners.
Choosing the Right Aqueous Parts Washer Manufacturer
To ensure you have the most productive outcome when purchasing an aqueous parts washer from an aqueous parts washer manufacturer, it is important to compare several companies using our directory of aqueous parts washer manufacturers. Each aqueous parts washer manufacturer has a business profile page highlighting their areas of experience and capabilities, along with a contact form to directly communicate with the manufacturer for more information or request a quote. Review each aqueous parts washer business website using our patented website previewer to quickly learn what each company specializes in. Then, use our simple RFQ form to contact multiple aqueous parts washer companies with the same form.
Aqueous Parts Washers Informational Videos