Drum washers are an industrial cleaning system made solely to clean the inside and outside parts of drums. Industrial drums are mainly used for the storage and shipment of various substances such as grease, ink, adhesives, paint, foods, dyes, and even hard-to-remove residues such as dried paint or cured resins. Read More…
Drum Washers
Parts cleaning systems are machines that act as one of the last steps in parts manufacturing. They are designed to clean, degrease and dry mass quantities of small or large parts before they are surface treated and shipped for distribution.
What is a Drum Washer?
Drum washers come in different forms, but they are mostly measured in gallons. They are usually cylindrical and made of fiber, plastic, or metals such as stainless steel.
Drum Washers Design and Function
Drum washers are usually rotary washers. This means they move drums in a circular movement, and their design consists of high-pressure nozzles to clean and spray the interior and outside of a drum. Even the dirtiest industrial drums can be cleaned effectively and thoroughly by combining a cleaning solution, high-pressure water, heat, and rotation. After the cleaning process, the drums are used again inside the facility.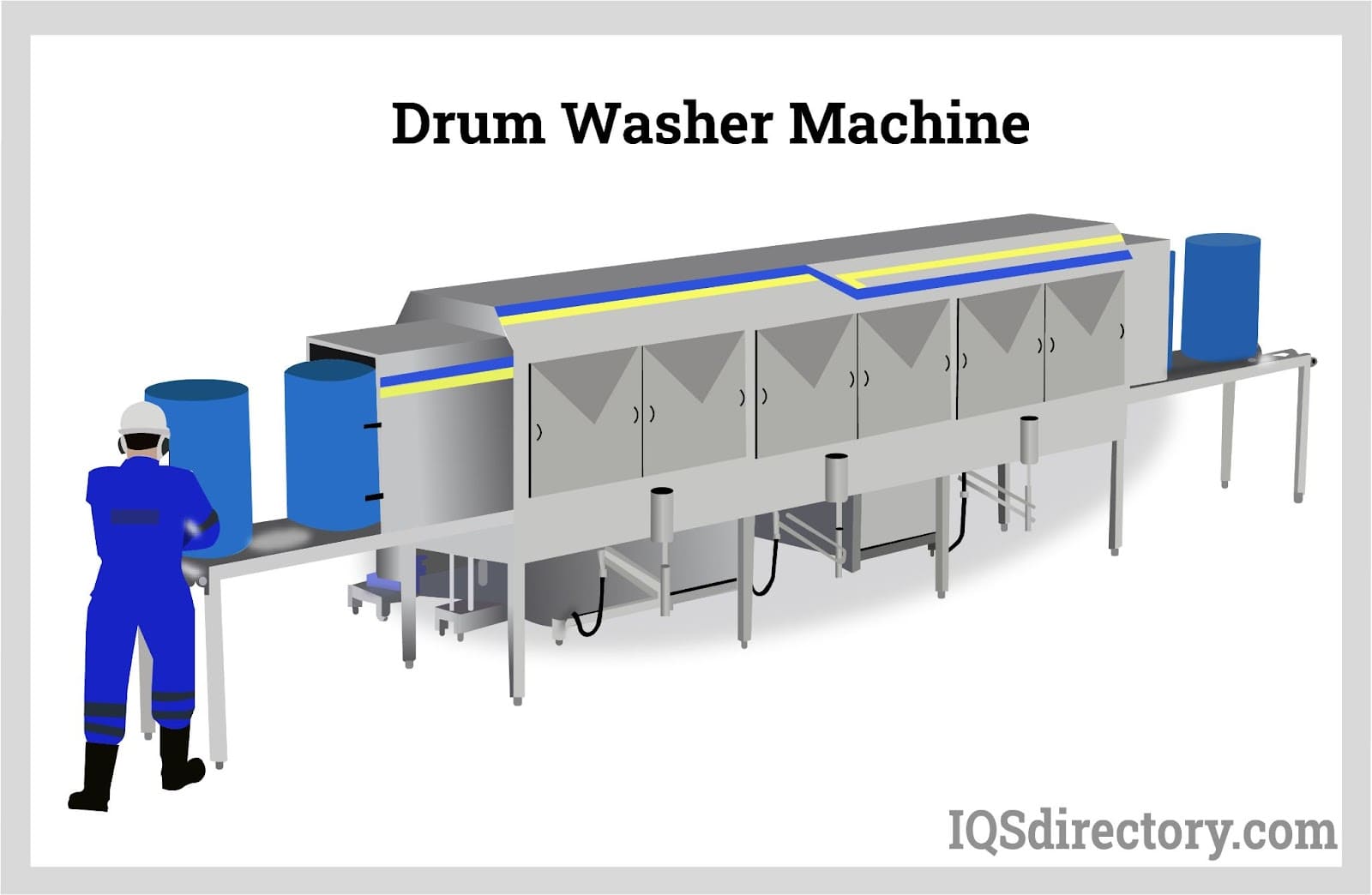 When a drum's lifespan has ended and it is no longer useful, it is crushed and sent for recycling into another plastic or metal end product. Before the process of recycling is performed, the drum has to be fully cleaned to avoid any risk of contamination. Every drum washer is designed with a filtration system to keep the drum tank clean and eliminate grime and debris from the aqueous cleaning solution or water.
The high-pressure nozzles are geared by high-pressure pumps that are resistant to corrosion and made of metal or stainless steel. They are also put at an angle at the drums inside walls to maximize the cleaning process. In addition, drum washers are equipped with wash rinse dry cycles or wash rinse.
These can dry the containers using air guns or a heating system. The cleaning solution or water, usually a detergent or solvent, is brought to heat by gas or electricity to high temperatures of about 248 °F (120 °C). It takes about five to fifteen minutes to completely clean a single drum effectively.
Types of Drum Washers
The types of drum washers include:
Plastic Drum Washers
Plastic drum washers are less expensive than stainless steel washers, making them popular. However, when exposed to hot water, they usually start to warp. In addition, plastic drum washers can develop rough spots or odors that can affect the contents inside the drum.
Porcelain Drum Washers
These are steel drum washers coated in porcelain; these washers are also popular and have been used for a long time. Porcelain drum washers are durable because of their great resistance to heat. However, once the coating of the porcelain drum chips, the exposed steel begins to rust, possibly damaging the contents inside.
Stainless Steel Drum Washers
Stainless steel drum washers do not rust because they are scratch-resistant and will not develop any rough places to damage the contents inside. They are expensive, but their lifespan is long.
Application of Drum washers
Drums are cleaned each time they are emptied to eliminate any possibility of contamination or the mixing of contents or substances. As a result, sectors and industries that use drums usually own a drum washer. Drum washers are capable of cleaning smaller containers such as:
Pails
Jars
Barrels
Lids
Buckets
Drum washers are used in various sectors and industries daily to maintain sanitary and safe conditions. Drum washers are used in the following industries:
Food and beverage
Agriculture
Wastewater treatment
Petroleum
Chemical processing
Hazardous waste
Advantages of Drum Washers
Drum washers have numerous advantages. They can be custom designed to meet certain requirements and have excellent precision when cleaning. Therefore, the safety of delicate parts is not a great concern. Screw parts of a machine with outside threads can undergo processing with zero damage. Another advantage of drum washers is that they yield an excellent clean on all materials brought through them. Chips and oil that are present are removed thoroughly. One outstanding advantage of drum washers is that they have automatic controls, which allow them to be fed from another machine automatically. As a result, there is a reduced cost of labor and increased productivity. Having an automatic design makes the physical output of the operator to be very low.
Choosing the Right Drum Washer Manufacturer
To ensure you have the most productive outcome when purchasing a drum washer from a drum washer manufacturer, it is important to compare several companies using our directory of drum washer manufacturers. Each drum washer manufacturer has a business profile page highlighting their areas of experience and capabilities, along with a contact form to directly communicate with the manufacturer for more information or request a quote. Review each drum washer business website using our patented website previewer to quickly learn what each company specializes in. Then, use our simple RFQ form to contact multiple drum washer businesses with the same form.
Drum Washers Informational Videos